52Frames  (https://52frames.com/) is a free community photography project, where a challenge is set every week and responses posted on their website  My friend completed this last year producing some interesting images and most importantly doing something every week. I looked around for a similar art project, but didn't find anything that fitted the bill. So.. this year we thought we might try and follow the project, her photographing and me doing an art response, and provide links to each other's work (https://52frames.com/photographer/13562). Needing something to inspire me this year, I hope 52 frames will be it. Although I expect there may be weeks where it will be difficult to frame the project in a way other than photography I will do my best.
The first week is self-portrait, with extra points for Rembrandt lighting. I was pleased to find I had no trouble starting once I had decided on a book. I picked a concertina book because it does not give me the opportunity to remove pages. I am stuck with what I have done…. no cheating!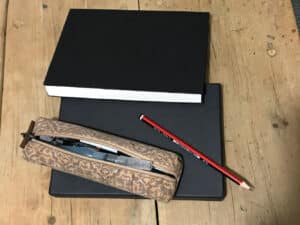 I took some photos to help compose the image. Having spent a lot of time in my kitchen over the last year I wanted to feature some things that are important to me, and thought they might make the image interesting. I like the triangular hanging shelf I made and thought the idea of putting the image into part of a triangle may work. Getting the lighting quite right on me proved difficult but I worked round it.
I chose night coming on outside to help the shadows and because the days are so short and it reflects my mood.